Why should you choose Falls Manor for your Bucks County wedding venue?
That's a great question, and one you should definitely ask before deciding. Rather than us telling you all the reasons our Bucks County venue is a great fit, read what the couples, just like you, have to say about their wedding, banquet, party and catering experiences at Falls Manor:
We are committed to providing the best all-inclusive wedding package at the most competitive venue price for Bucks County weddings, banquets, parties and catering.
"Falls Manor is a one-stop shop presented in the most elegant of packages. If you are looking for stress-free and inclusive, this is the ABSOLUTE best option out there."-Jenn
"The best part about the wedding packages is that many of the things that are included ( at unbeatable prices ) are an upcharge at other places. I know it will be the day I have always dreamed of! – Megan  
"I must say, the pricing is very reasonable as far as weddings go but at Falls Manor, you get so much more bang for your buck! There is so much included and they have things to go with almost any themed wedding."– Ruth
"The wedding package they offer is great and takes away so much of the stress of planning, from the cake to the flowers to the dance lesson, everything was AMAZING!!!"– Nicole
"So much was included, it was really a one stop shop."– Lauryn
"The package was amazing and included so much that we didn't have to worry about much on the big day!"– Cait 
We are committed to providing unparalleled service from the moment you contact us to the very end of your event.
"When we visited Falls Manor we were instantly in love, not only because of the stunning facility but also because of the great service we received."– Amber
"I just felt like everything we asked of Falls Manor was delivered, with friendly smiles to boot."– Linda
"Sonya and her team are so easy to work with and honestly made wedding planning a breeze!"– Lauren
"I absolutely guarantee that you will not find anyone in this business that is more responsive than Sonya and her staff."– Jenn
"The entire staff was wonderful! The servers went above and beyond to make sure our guests were satisfied! We cannot say enough fantastic things about Falls Manor."– Nicole
We are committed to maintaining our beautiful Bucks County venue so your guests can be wowed the second they walk in.
"All of my guests were absolutely enamored by the beauty of the venue from top to bottom."– Jenn
"The venue is absolutely beautiful and a must see – the upgrades and decor will make you fall in love!"– Alaura
"Falls Manor's beauty and elegance are by far above all the rest."– Happy Mother of the Bride
"Inside this venue was absolutely beautiful!  I heard from all my guests that it was absolutely stunning! Would 10000% recommend this venue to someone else!!!"– Crystal
With our Bucks County catering services, we are committed to providing delicious innovative menu that will never be labeled as "typical wedding food".
People were raving about the food during cocktail hour and how filling and awesome it all was."– Beth 
"The food was amazinggggg!(we heard that a lot from our guests) and the price per person was incredible for all the foods our guests received."– Sally
"Chef Mark and his exquisite cuisine, I heard nothing but complements all night long."– Ruth
"The food at my wedding was incredible.  Other places may say they have great food but most food at weddings is mediocre at best, not at Falls Manor!" – Lauren
Meet the Owner, Sonya Elmore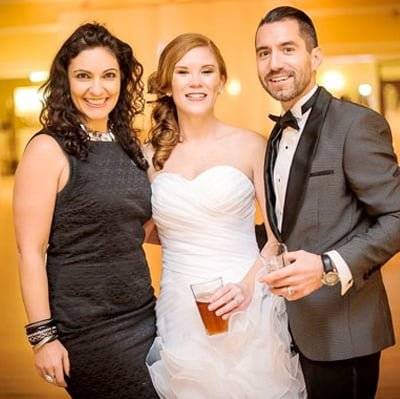 Formerly known as legendary King's Caterers, Falls Manor transferred hands in the late 2014 to Sonya Elmore, who breathed an entire new life into the venue.  Sonya set to transform this elegant venue into a modern beauty where hundreds of couples celebrate the happiest day of their lives and lots of memories are made hosting birthday, reunions, and anniversaries.  Falls Manor boasts a spacious lobby with beautiful floors, one of a kind Light Wall with strings of lights and modern but classic furniture in gold tones.  Add 3 gorgeous ballrooms, 2 chic bridal suites, and a ladies room that always gets a "wow" from first time visitors and you've got one stunning venue.  Every detail has been personally picked out by Sonya to complete her vision of an elegant, classic but timeless venue that is welcoming to everyone.
Having no prior experience in the wedding or catering industry, Sonya quickly realized how challenging it is to plan a wedding with venues offering endless packages and confusing pricing and charging just about for every single little thing. She wanted to create a package that made couples' planning process a lot less stressful and a lot more enjoyable.  That is how the Platinum Package was born that includes everything one can possibly need for the reception and a lot more.  We welcome you to experience what it's like to have a wedding or an event at Falls Manor, it's truly a wonderful and memorable experience!
"Sonya made the planning phase so easy for us, the wedding package they offer is great and takes away so much of the stress of planning from the cake to the flowers to the dance lessons everything was AMAZING!"
– Nicole H.