Our all inclusive Platinum Wedding Package is one of a kind and can only be found at Falls Manor. It truly reflects our motto… Wedding Planning Made Easy. Everything in our Bucks County wedding venue is included from the wedding planner and premium open bar to the wedding dance lesson and everything in between. Priced at only $106 per person ($96 January, February and March), this package makes for the best wedding package you will find anywhere in Bucks County.
Price
Guest Minimum
$96-$106 per person


(inclusive of tax and gratuity)

Friday-110 guests

Saturday-140 guests

Sunday-100 guests
Price: $96-$106 per person (inclusive of tax and gratuity)
Guest minimum: Friday-110 guests/Saturday-140 guests/Sunday-100 guests
Sofia Ballroom is a magnificent 6,000 square foot ballroom that boasts 4 crystal chandeliers, beautiful wall sconces and wall to wall hardwood flooring, ready to accommodate up to 275 guests for a wedding reception with still plenty of space for the dance floor. Our Bucks County wedding planners can customize the space to suit your individual needs. Sofia Ballroom can be merged with Jesse Ballroom to accommodate up to 600 guests.
Jesse Ballroom is a gorgeous 4,000 square foot ballroom used mainly for ceremonies, accommodating up to 300 guests. Our Bucks County wedding planners can create you a unique space complete with sparkling chandeliers and tulle with twinkling lights backdrop. We make this ballroom a perfect setting for a romantic ceremony, amidst your closest family and friends. As a Bucks County reception venue with catering, Jesse Ballroom has all of your party needs covered.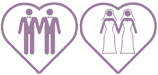 Falls Manor is a LGBT-friendly wedding venue.
It's our belief to make everyone feel welcome and offering ALL guests exceptional hospitality is our top priority!
"My wife and I were treated like royalty, the food and atmosphere were spot on. I would recommend Falls Manor to anyone every time…"
– Gino Z.